Instagram Bio For Girls : दोस्तों आज हमने लड़कियों के इंस्टाग्राम प्रोफाइल के लिए अलग-अलग तरह के बायो लिखे हैं। यह विभिन्न प्रकार का है जैसे – Attitude bio, Cool Bio, emoji Bio, Creative Bio, Swag Bio, Stylish Bio & Cute Insta bio, Vip Bio for girls।
इंस्टाग्राम जिस पर हम अपनी फोटो अपलोड कर सकते हैं और पूरी दुनिया को दिखा सकते हैं, इंस्टाग्राम प्रोफाइल हमारी फोटो के साथ अच्छी लगती है, लेकिन इंस्टाग्राम अकाउंट में बायो होना बहुत जरूरी है।
जिससे हम अपनी पर्सनैलिटी दिखा सकें, यह हमारे फोटो देखने वाले लोगों को हमारे बारे में ज्यादा जानकारी देता है, जितना अच्छा लिखा होता है, लोग उतने ही ज्यादा हमारी प्रोफाइल की तरफ आकर्षित होते हैं।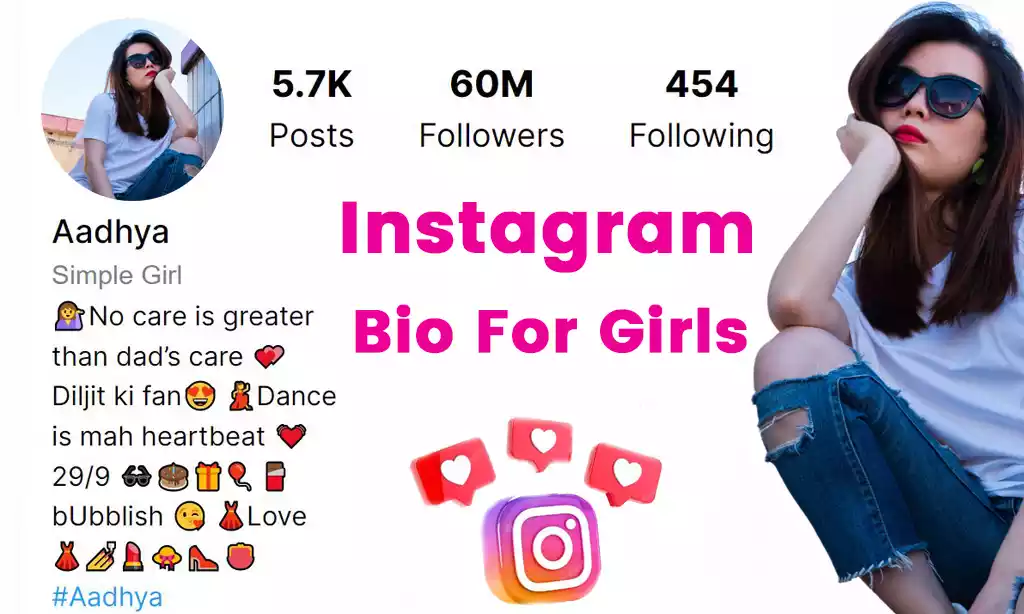 Cool Instagram Bio For Girls
वर्तमान में ज्यादातर लड़कियां Instagram का काफी इस्तेमाल करती हैं और वे नए-नए Bio Ideas सर्च करती रहती हैं। उनकी मदद के लिए आज हमने अलग-अलग तरह के बायोस लिखे हैं जिन्हें आप एक क्लिक से कॉपी करके अपने इंस्टाग्राम अकाउंट में डाल सकते हैं।
Mahadev 👑😘
▪︎👶🐣-31/³ 🥂🍾
▪︎Life is Game,deal With Mind
▪︎KARMA▪︎
▪︎Your City Name 🌐
🎉Miss Me On 17 April 🥰
❤Dance Lover ❤
👉Simple 👔
📚Study 📚
🎧Music 💖
✌ Fitness Lover ✌
💖Bandi Kadak Hai💖
❤ Daddy's girl👧

❤ Proud to be Rajput 😎

❤ First cry on 13 Oct 😭

❤ Love me like you do😜

❤ God is really creative…
I mean😉 just look at me😛🙈🙉🙊

Bōrñ_25 Mày🎂🎂

🇮🇳 DEFENSE⚔️

💂 INDIAN ARMY❤️

⚔️ SOLDIERS LIFE🇮🇳💪

Jai mahakaal 🙏🙏🙏
🙏 JAI MAA BHAWANI🙏
.
.
.
🚩khama gani hkm 🚩🔱
❤babosa ri लाडली 🙈
🙈wish me on 3rd of January❤❤
👑my attitude will always be based on
😏😏How you treat me😏
➡😎Attitude Overload 👑
➡💕Mom Dad Is God😘
➡🎧Music Addicted🎶
➡📸PhotoHolic💓
➡😉Single But Nø Available😛
➡Wish me on 17 Feb🎂
💥Blessed Me On 29 March 🎂🍫
⚡️Yes I'm Banjara Girl 😘
🌟Purpose Of Life Is To Enjoy Every Movements 💃
♠️Queen Of Some One's Heart ❤️
😍shopping lover 👗💄👠👛
🎀 smiley grl 😊💃
🎀 blessed on 30th sept 🎂
🎀 dandiya queen 👸
🎀 happiieee soul ☺
🎀 Sensitive by brth😇
🎀 lovely life 🌹
🎀 mamma's wise grl😉👰
👉 Medicoco.💊💉
👉 Born 17th June.🎂🍾🍷
👉 Capricorn.🐊
👉 Jabalpur 〰 Indore.
👉 Karma believer.👊❤
👉 Love Nature.🌱🌲
👉 Shopaholic.🛍👗
🤴🤴Papa ki princess👸👸
💌🌃Sanskari ladki😛🌆
👉🥰Jiddi sï saan 😋
🎂🎂Surprise me on 4 Nov🎂
🖤🖤Black laver🖤
✨Bindas chori💯
👩‍🔬Hip Hop dancer🤴🤴
❌Kisi ke bas menhi
😈ब्राह्मण😈

blacklover🖤

✨Special day__🎉25 Nov🎉 __✨
▫ Simple girl without attitude… ✌
▫ I know I'm lucky that I'm so cute… 👰
▫ hEaRtFeLt❤️
Career ambitious💁.
Dreamer 😇believer
👧🏼High dreams💞👍🏻
spoiled by love 😍😘💋
blow candles on 18 Oct🎂🍾
love for pink 💗
fashionaholic👠👗💄👜
Cake murder 🎂🔪🔪 20 Oct 🥰🎊🎊

luv_proffession_🥰

mekup artist 💅💅💅

princess_of_maehh_papa

queen😍😍😍👸💯
💢 QUEEN👰OF INSTA📱
💢 WISH🎁ME ON 12 NOVEMBER🎂
💢 AMDAVADI🌇
💢 CHOCOLATES🍫KI DIWANI😘
💢 SELFIE🤳QUEEN👰
💢 ATTITUDE😈MEANS A LOT😉
💢 BEST👌PAGAL☺
👑.Queen.👑😘😘
👑.ÑÀMÌ._👑😘😘
😊= cake kill on 14th nov…🎂
😊= Entertainer||influencer ❤
😊= don't study me. you won't graduate😎😘 ❤❤I'm gud girl with bad habits❤❤
Royal entry….27 September🍫🎂
🤗I don't have any attitude❌
😘My personality is such that😎
You 😙can't handle🤠
🤫अपनों से सावधान🙏……..🤬
💋DimpLe Girl💋
😎Attitude😎
😎Smart😎
🥰Cute 🥰
😉Crazy🤭
🤠Stylish👻
🙃Dancer🙂
📸 Selfie📸
💥Don't Try to Impress Me❌
Cute Girly Instagram Bios
onesidedlove
▫ LOVE YOURSELF.. 🤘
▫ Simple girl without attitude… ♥✌
▫ I know I'm lucky that I'm so cute… 👰
▫ hEaRtFeLt… 🤘💕
hate you 😍😍
Chocolate lover 😋🍫🍫
cry on 8th September 😜
My favorite food pizza 🤤🤤😛
Dance lover 💃💃
Bullet lover
📸📸photography lover
Fashion bloger
😍😘U can haTe Me bUt soRRy u caN't chANge mE😉
📑My history started on Oct 7👸
♥️Luv Dancing ♥️
🎶Music addict🎵
🍫 Foodie 🍕
😉Thodi ziDDi+mOody😜😜
❣Mom s Angel❣😍
Love uuh mamma😍
Wish me on 4 April🎉
📸Love photographs 📸
😘Brother s Angel😘
📱Selfi lover📱
Swag Attitude Bio for Instagram for Girl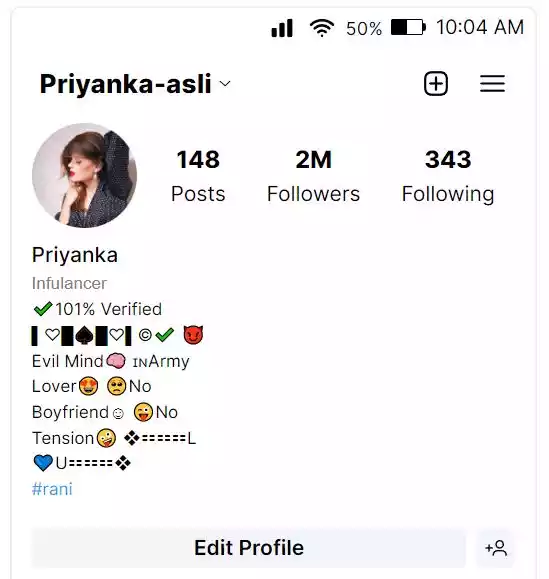 attitude queen 👑

spicychilly 🔥

single😙

moody😳

daddy's girl🤑

my day 30 october 🎂

insta luv❤

my haters :f**k 🖕

dont judge 😉
d®αmα..•queen~•😋
¤The Insta Queen 👑
«Landing On Earth 29 September 🎂
😎 Attitude – Depend 💢 you 😋
«Lover Of Driving 🚘
¤Love Always Mom Dad
🌆Happy Because💯 Single..😊😌
● ! Łøvə m¥ $ə|f👈
ßıñgłė Łıfė ıs å fůłł õf #Åttıtůdė😎 Łıfė , Đøñ't mıss thıs mømėñt , Əñjøy åñđ Łıvė as å #Přıñcə👼 , Bəcåuse ıt wıłł ñėvėr #Řetůrñ
ŘøýåŁ😎 əñtřy 29 Ñøv 🌼
😋LoGin In WoRld_13🎂JaN
❎No relationshits😉
🌸.-. DeLhI__se__hu__bc😁🤬
● ! Łøvə m¥ $ə|f👈
↪😂I'm Happy..Bitches Hate that🖕😈
Smiley girl 😘
Chocolate love🍫
Lazy girl😴😴
Kamini friend ki jaan🤪
Single life🙏
Thoda attitude 🤥
Mummy ki Rani 👩‍🦰
Papa ki princess👸
💚Miss Perfect 💚
💖Papa ki princess 😍
💚Mom ki Jaan 😀
👏🕉Shiv Bhakt🕉💖
💕Love Indian Army👈
🔴Proud to be Hindu🔴
👉Always Simple and Classy😜
~hæ faKe f®Nds, fákE £oVe,😉fäKe peOp£© nd f@ke prOmisE"s a£so😉

ch°C°lâte* 😜ND taD~¥ £oVer*😎

Ï s@w thīs wor£d on 8@pRil😊 🎊

no sPãce😏fOr bf•😏😎®
🦋Cute Butterfly🦋
👉 Birthday 🎂 6 August
👉 Crazy Girl.. 👩
👉 Student 📚 📐 📏
👉 Foodie 🍕 🍝 🍔 🍦 🍧
👉 Chocolate Lover 🍫
🎉🎀👸𝑴𝒚 𝒇𝒊𝒓𝒔𝒕 𝒄𝒓𝒚 𝒐𝒏 𝒔𝒆𝒑 𝟏𝟔👸🎀🎉
💕👨‍👧𝑷𝒂𝒑𝒂 𝒌𝒊 𝒍𝒂𝒅𝒍𝒊👨‍👩‍👧 𝒎𝒂𝒎𝒎𝒂 𝒌𝒂 𝒈𝒖𝒅𝒊𝒚𝒂👩‍👧💕
😇💖💫𝑩𝒐𝒓𝒏 𝒕𝒐 𝒔𝒉𝒊𝒏𝒆💫💖😇
🖤💃𝑫𝒂𝒏𝒄𝒆💖𝒎𝒚 𝒑𝒂𝒔𝒔𝒊𝒐𝒏💃🖤
💕🎹𝕸𝖚𝖘𝖎𝖈🎧 𝖑𝖔𝖛𝖊𝖗🎹💕
💟👭𝑳𝒐𝒗𝒆 𝒎𝒚 𝒇𝒓𝒊𝒆𝒏𝒅𝒔👭💟
My Simplicity is the 🔑 to my happiness ☺️✌🏻
Mom's First Kiss😘 on July 2️⃣7️⃣
STUBBORN🥴😎
ShopaHolic 🛒🛍️🏷️
Love to be Loved♥️
Karma Believer🤫
PISCES♓
Mom call's me sweety😍
First cake mardar in april 16😘
Kill them with your success burry them with your smile👈🏻😎
Friendship is forever👭
I love my family
13 October 😘
Photoholic 📷
Attitude Girl 😎
Angry + Ziddi Girl 😣
Daddy's Little Princess 👸
Love My Family 😘
Naughty 😜
Being Human 😇
👰Miss Pagli ❤✌
👉Do☺What😁Makes You
😊Happy😂
🎸Music lover💙
❤Photography💙
😂Attack on Panipuri😂
🎂Cake Murder 10 August🎁
Simple Instagram Bio for Girls
I lighted the 🎂 on 😇11-06-2005😇
Just can't be without dance💃😜 and music☄★
Always try 2 be with 👫👭 at very🗼
😜FRIENDS
My first priority my family I love dance I love music 😘😘😘😘😘😘😘 I love you mom and dad💞💞💞💞💞💞💋💋💋💋💋💋💋 my life line dad😘😘😘😘😘😘😘😘😘😘
killer ❤️❤️❤️girl 🔥
🎂 wish mĕ oñ 21 July ❤️
I know who I m approval not needed 👍
I m so bad please keep distance 😡
I love only my dream ♥️♥️♥️♥️
▪️self respect is my 1st priority💫
▪️KARMA believer⚡
▪️NCC_CADET🇮🇳
▪️Bhakt of Mahakaal🙏
➡𝕿𝖍𝖔𝖘𝖊 𝖜𝖍𝖔 𝖑𝖎𝖐𝖊 𝖒𝖊…
𝕽𝖆𝖎𝖘𝖊 𝖞𝖔𝖚𝖗 𝖍𝖆𝖓𝖉𝖘😉…
𝕬𝖓𝖉 𝖙𝖍𝖔𝖘𝖊 𝖜𝖍𝖔 𝖉𝖔𝖓'𝖙 𝖑𝖎𝖐𝖊 𝖒𝖊
𝖗𝖆𝖎𝖘𝖊 𝖞𝖔𝖚𝖗 𝕾𝖙𝖆𝖓𝖉𝖆𝖗𝖉𝖘😒😎
𝐂𝐚𝐫𝐞 𝐟𝐫𝐞𝐞🦋
𝑫𝒐𝒏'𝒕 𝙇𝙤𝙫𝙚 𝒕𝒐𝒐 𝒔𝒐𝒐𝒏
𝑫𝒐𝒏'𝒕 𝙩𝙧𝙪𝙨𝙩 𝒕𝒐𝒐 𝒇𝒂𝒔𝒕
𝑫𝒐𝒏'𝒕 𝙚𝙭𝙥𝙚𝙘𝙩 𝒕𝒐𝒐 𝒉𝒊𝒈𝒉
L♥o♥v♥e♥ u♥r♥ s♥e♥l♥f♥
⸶K⸷⸶T⸷⸶M⸷💞
🌒khwabo_Di_Raani_👸
👨‍🦱Apne_baby_ki_Deewani_♥️😘
💁shopholic_👗👠💄👜
👩‍🌾Selfie_Queen,📱
🤷Bindass_girl_💃
🙋Always_happy_😍
😘Daddy's Girl 👰
💙Love my family 🌷
😘Just love my self🌷
👧 College Student🌷
🎂Blow candles on 16 February🌷
g●d_¡s_r€aly_creat¡ve_|me@n_ju$t_loOk_aT_m€😍😜😘 🎂7th_Of_ocT ïbêLievEīN_dr£åMs💭 $míLiNG_fãcE bElîēve_iN_tRūe_LÖVE|!kE_#SHIV_PARVATI❣️
dòcTöR_Tô_bE⚕️
Bio for Instagram for girls Attitude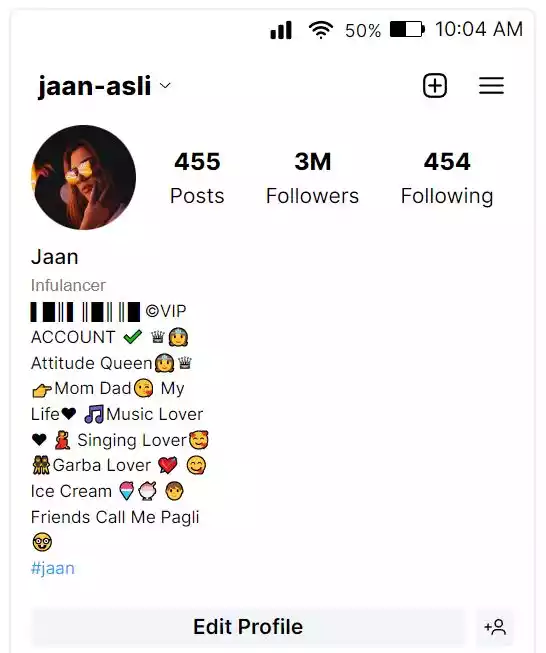 🔹OFFICIAL ACCOUNT🔹
Don't trust any other account🙏
LOVE me or HATE,that is a question😕
If you LOVE me then,thank you💋❤
If you HATE me then,f**k you💀🖕
First cry on Earth 27july😉
Nick name._aashu🆗️
↔Ľuv Dãirýmïlķ🍫
↔Simple Girl 😇
↔Love~Friends😍
↔Love~Music🎵
↔I am single..
🎂Birthday – octomber 16🎁
💪Gujju girl….Love modiji😍
👗Fashion designer 👠
👪Love mammy papa😘
😇Always keep Smiling😊
😎Proud 2 b Bramhin😘
😻Radhe😊 radhe 😻
♥️Pyaar nhi🙅‍♀️ nind🙇‍♀️😴 chaiye😅
💑Relationship🤔👉 ki jagah👻pizza🍕🍕🍕 with extra cheese🧀🧀 chaiye👻👻😂😂😎😎
😇Wish me on🎂🎂 18october 😇
Instagram Bio for Girls in Hindi
👑 My City Valsad 👑
👨‍👩‍👧 Mom__Dad__First__Love 👨‍👩‍👧
👉No_Bf_❌No_Tenson👈 🍻Party_Time🎂🍫🎂16 August🍻
My_Life_My_Rules😎😎
❣️ Love is blind ❣️
😍Music lover😍
▌│█║▌║▌║© My V.I.P Profile✓
♓۝💥Cute Kamini💥۝♓
👉Royal Entry 26 SEP🎂
❤️ Photography Lover📸
🎵Music Lover🎵
🖤Duke Lover🏍
🧡Big Fan Of Mahadev🕉️
😎Attitude Depend On You🔥
▌│█│║▌║││█║▌Vip Account 💙
❣️Prem ki Diwaani 🥰
😘My momDad
😘 Badminton Soul💕
😋Cake+Chocolate 💕Lover😘
😉Miss Me on 6 May
😜Waiting Cute ©harming prince💕
💞Shiny✨✨
💞H2R lover🏍️
💞 Alcoholic EyEs 👁️
💞Music addict🎶
💞 Pets lover 🐕
💞 Cricket lover🏏
💞 7th Dec🎂
💞One LoVe MaHakaal🙏
💞 Negativity will b blocked⛔
आ फ त🔥🔨
🙋Queen of own world👑
🙋Daddy's princess👰
🙋Mamma's kamwali👻
🙋first cry😭9 Septmber
🙋ittu si badmash🙀
🙋Love is not of my type💘
🙋hater's uh make me famous🙈
🍃Falling for u 🍃
🏡jaipuri😍
🍻2 oct🍻
☕Stressed, blessed, nd coffe obsessed ☕
Having the time of my life ⏰
I'm sweet like honey 🍯
Single🤘🤘 I hate chora chapra
Papa ki ladlii😘😘
🔥🔥🔥atteck_1may
Jai_matadii
Rajshthani_chorii💥🔥🔥🔥
😘Jalpa Queen😉
😉Pagli Ladki😜
💋 Selfie Lover 🤳
🍭Chocolate My Favourite 🍫
😎Attitude Girl😎
♥️ Cooking Lover 😋
💋Blow Candles On 19th March🎂
《💝Mom + Dad 💖my world💝》
《💓💓 college girl😎
《💝love you frinds 💞》
《💝Music lover🎶》
《😎Selfie star📱》
★💓Official Account★💓
😎Selfie Queen📷
🎵Music Lover🎶
💕Duke Lover🏍️
❣️Single & Taken😜
🍰Cake Murder 1 January🎂
.Welcome to my own world🤭
..A girl trying to follow her dreams 💕
..A Spiring Alternative model 🙈
.. Always_ unique 👻💎
Photoshoot lover 😘
Always Happy Mode ON😂😆
Hardik's fan 😘💕⚡
Music lover 🎻🎼
1st cried on jan 18😝
Queen of hearts ❤️
Dosti forever👭💕😍😘
Proud to be hindi 😎
No b f👍👍🤦
No ex😱😆😆
Singal life♥️♥️♥️
Is best😘😘😘😘😡
➰¢ool with cl@$$¥ attitud€
pagal 😇😇 smily prani,😊😊judge me when you are perfect 😎😎
Music lover 🎤🎵🎸🎺🎷🎻
Black nd white lover 👻🐀 wish me on 20 march 😊
Single ☝️
💓💓💓💓💓💓
Cute princess 👑
Babydoll
Excmsian
Everything is possible🙂🙂
Grand entry 4 October 2001
Love you my family ♥️♥️
Single life is best life 😎😎
Music lovers 🎵🎶🎼🎸💙💙
Dikhne Me Bholi 😊
😎 Chalne Me Goli 🔫
Cake murder..🎂2/8😘
I love singing..😘
Attitude queen…😈
black… addict 💖💖
Fashion.. Love photography.😘
jattni
Education is my life
My dream👉 Ras officer……
13 November 🎂 special day for me…
Panjabi song lover🎧
My heart beat 👉maa❤️ bapu.
Love u yarro😘😘
🤓Gujju Girl❤️
💠Shopaholic💠
❤️Shoes LoVer🩰
😁Dady's princes👸
🥰Mom Star🌟
❤️Always Singal😞
🎂Birth Date 29 May🎂
Best Bio for Instagram for Girls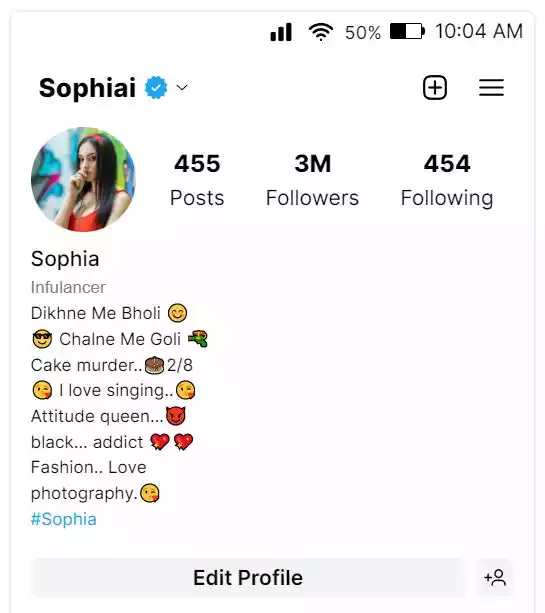 ✔101% Verified ▌♡█♤█♡▌©✔
😈Evil Mind🧠
🇮🇳Army Lover😍
🥺No Boyfriend☺️
😜No Tension🤪
❖⚏⚏⚏L💙U⚏⚏⚏❖
❤️puju🖤
Think Big, feel strong, & pray for deep.
Heart ❤️🔥Coz life is Struggle! You can when you believe so dreaming & start doing.
Jaipur.
Your flying cheese,🔥
firefly😌

twilight 🖤🖤

harrypotterworld 🖤🖤

X-BMCIAN😘
Reality is merely an illusion 💨
29Th sëptëmbër bïrthdây bäsh🎈🎂
Løvë dåñçïñg💜 (ömñivért)🤪
Thë rårē øñê😉
Sårv güññ sâmpåññ 🖤🙃
Birthday 13 April
🔥उसूल पक्के🔥
😇 दिमाग खराब❌
👩रंग साँवला🤷‍♀️
❤दिल साफ….😉😉🙃🙃😌
😜Welcome To Pagli🏰
🎂5July😊
🏡Surat😍
📏5.4
💃Dance😘
📷Photography❤
👗FashionDesigner👚
My📱number 800*😅?
🏠Marathi Mulgi
🍰 3 August…🎂
👎Cheap Comment
❌DireCtly Blocked
💪 Fitness Lover
👉Bike Race I Love✌
✌Dancing Is My Life..❤
🚫Dont DM
Sweet ❤️ Little Girl,
🎊🎉 wish me on 5 August….🎆
Love 💕 black outfits,
Loves mom and dad,
Love my life……
……Music & Dancing lover….🎵🎼
I love my sister.. ❤
Love हे तो ठिक है
अगर Attitude है😈
तो Babu तु
अपने घर मे ही ठिक है. 😌
Cute girl😊
Mahakal ki bhakat🙏🙏
Music lover🎵🎵 hardy sandhu
My life line_my sweat mom😊
Cake murder 🧁🎂 9 January
Drama quine😉🔥😊
And dance lover😍🥰
🥰Papa Ki Princess👸
😘Mumma Ki Jaan😇
😃Brother Ki Ladli😍😎
😘Photography lover📷
😍Music Addicted🎶
♥️Mom💜Dad 💜Bhai
☝️Single But Not Available💋
🎂Wish me on 10 May🎂
Attitude girl 🔥🔥😜
Love you mom dady❤
live in chhatarpur 🏘
Cake murder 10 july🎂
A story about a person 's life
Volume slow karke baat karna Mujhse 😈Mai unchi awaaz Gano ki sunti hu or kisiki nhi 🙅👀👰
😘CaKe 🍰 KiLL 9 aug
Har har mahadev🙏🙏
Belonging to uttarakhand 😘😘
Nature 🌿🍃🌿🍃🌿🍃lover
📖StuDy📖at Bachular
Get lost in what you love❤️
👸Sapno Ki Raani😍
🙈Sweet 9teen😊
😘 SelfieHolic🤳
🎧Music Addicted🎶
♥️Shoping Lover♥️
♥️Chocolates Lover🍫
🎁Wish me on 11 May🥰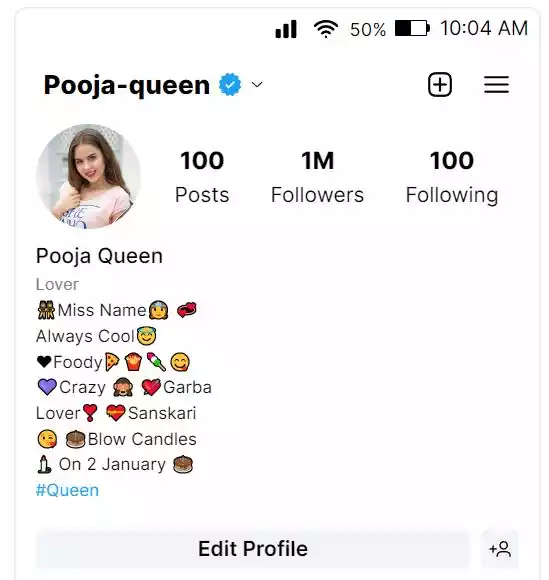 😎 Heartless Girl😎
💓 Love ♥️Mom Dad💞
💪Gym & Fitness Lover🔥
😍Fan Of Varun Dhawan🥰
🙏Mahakal BHAKT🙏
🍰Cake Murder 🔪 6 April🎂
☝️ बातों को Meri तुम भुला ना सकोगे
😎 Girl हूँ मैं बिंदास
😜 लेकिन तुम पटा ना सकोगे
💪Ziddi Sehzadi💯
😎Attitude queen 👑
💓Music is my life🎧
📸Photography😎
😃 Battamiz 😜
👸Dont say cute😃
🎂Wish Me 💕 29 December 🎂
यह भी पढ़ें –
70+ गर्ल स्टेटस – Attitude Status in Hindi For Girl
30+ Birthday Shayari for Lover in Hindi (Girlfriend Boyfriend)
10+ प्यार भरा लव लेटर – Love Letters for Girlfriend in Hindi
200+ Instagram Bio for Boys [Latest 2023]
200+ Instagram VIP Bio for Boys 😍 Girls 💝 2023
हम आशा करते है कि हमारे द्वारा Best Instagram Bio For Girls आपको पसंद आये होगे। अगर यह नारे आपको पसंद आया है तो अपने दोस्तों और परिवार वालों के साथ शेयर करना ना भूले। इसके बारे में अगर आपका कोई सवाल या सुझाव हो तो हमें कमेंट करके जरूर बताएं।